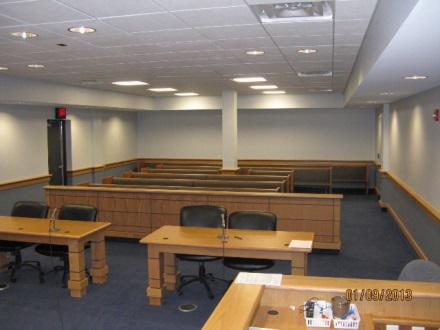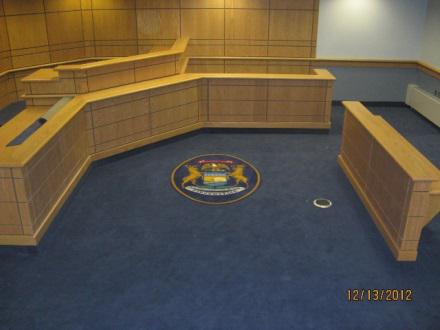 ---
Owner: Chippewa County
Project Location: Sault Ste. Marie, MI
Architect: Landmark Design Group, P.C.
Project Cost: $2.5 million
Project Duration: 10 months
Project Completed: December 2012
---
The Chippewa County City-County Building renovation project consisted of the partial renovation of two floors in the existing building. Work was phased in order to accommodate building staff, and to ensure as little disruption as possible to the day-to-day functioning of the local city and county government.
The demolition consisted of the removal and disposal of concrete walls and floors, concrete masonry unit walls, miscellaneous steel, doors, door frames and hardware, and flooring. The scope of work included upgrading and reinstalling the demolished areas, as well as mechanical, plumbing and electrical work. Additionally, structural steel supports were installed to construct a connecting walkway between the courtroom and the 1999 jail addition, for inmate travel to and from the courtroom.
The office construction is metal stud and drywall, with painted finish on the interior walls. The exterior walls are concrete masonry units with an EIFS (exterior insulation and finish system) finish. New acoustical ceiling and flooring was installed throughout the renovated area, including ceramic tile, VCT, and carpet. Cooling systems were provided throughout the building, and in combination with upgrades to the heating system, provided a much needed air exchange. The electrical system was upgraded, and security measures put into place for employee and visitor safety.